Following the news of the relaunch of its iconic train, Accor-owned Orient Express is once again shaking up the luxury travel world with the revealing of its first ship, Orient Express Silenseas, which takes the title of the world's largest sailing vessel.
Due to embark on its maiden voyage in 2026, the 721-ft Orient Express Silenseas will offer 54 suites, including a sprawling 15,230-sq-ft Presidential Suite, which will cover the entire top deck. No rooms will be short of space, however, with an average size of 753 sq ft.
Elsewhere on the ship will be two swimming pools, a cabaret lounge, two restaurants, a speakeasy bar, a spa and even a recording studio, just in case musical inspiration takes you in the middle of the ocean.
"With Orient Express Silenseas, we are beginning a new chapter in our history, taking the experience and excellence of luxury travel and transposing it onto the world's most beautiful seas," says Accor chairman and CEO, Sébastien Bazin.
Built by leading luxury shipyard Chantiers de l'Atlantique, Orient Express Silenseas is set to be a showcase of the finest French talent today, with Nantes-based design company Stirling Design International responsible for the naval architecture.
As with the refurbished Orient Express train, architect Maxime d'Angeac will be responsible for the interiors. Inspired by the iconic glory days of the French Riviera, the vessel will be all at once glamorous and refined, with plenty of individual touches both in the guest suites and the communal areas.
"This exceptional boat, with roots in Orient Express' history, will offer unparalleled service and refined design spaces, reminiscent of the golden age of mythical cruises," Bazin adds. "Innovation is at the heart of this ultra-modern ship that will revolutionize the maritime world with new technology to meet today's sustainability challenges. It is a boat designed to make dreams a reality, a showcase for the best of French savoir-faire."
While Orient Express Silenseas' exact itinerary is yet to be announced, Accor has revealed plans for the ship to be in the Mediterranean seas during the summer months, before traveling to the Caribbean for winter. Both onboard experiences and on-shore excursions will be centered around art, culture and nature.
The mammoth sailing ship will benefit from a state-of-the-art hybrid propulsion system that will utilize more eco-friendly liquefied natural gas and, once approved, hydrogen power.
"Chantiers de l'Atlantique is proud to herald a new era in the shipbuilding industry with Silenseas," says Laurent Castaing, managing director of Chantiers de l'Atlantique. "This concept, born in our design offices in 2018, is the quintessence of our savoir-faire in the fields of naval architecture, the construction of sophisticated hulls, as well as the design of luxurious spaces."
In addition, the installation of three SolidSail rigs, a revolutionary 16,146-sq-ft unit wind propulsion system, for which we have developed and tested a first prototype, will contribute significantly to the propulsion of the ship. Combined with a hybrid propulsion system running on liquefied natural gas (LNG), Silenseas will thus become the ship of reference in terms of environmentally friendly operation and design."
While Silenseas is the first and only Orient Express sailing ship currently on order, Accor and Chantiers de l'Atlantique's partnership lays out plans for a second vessel, which is expected to be delivered in 2027.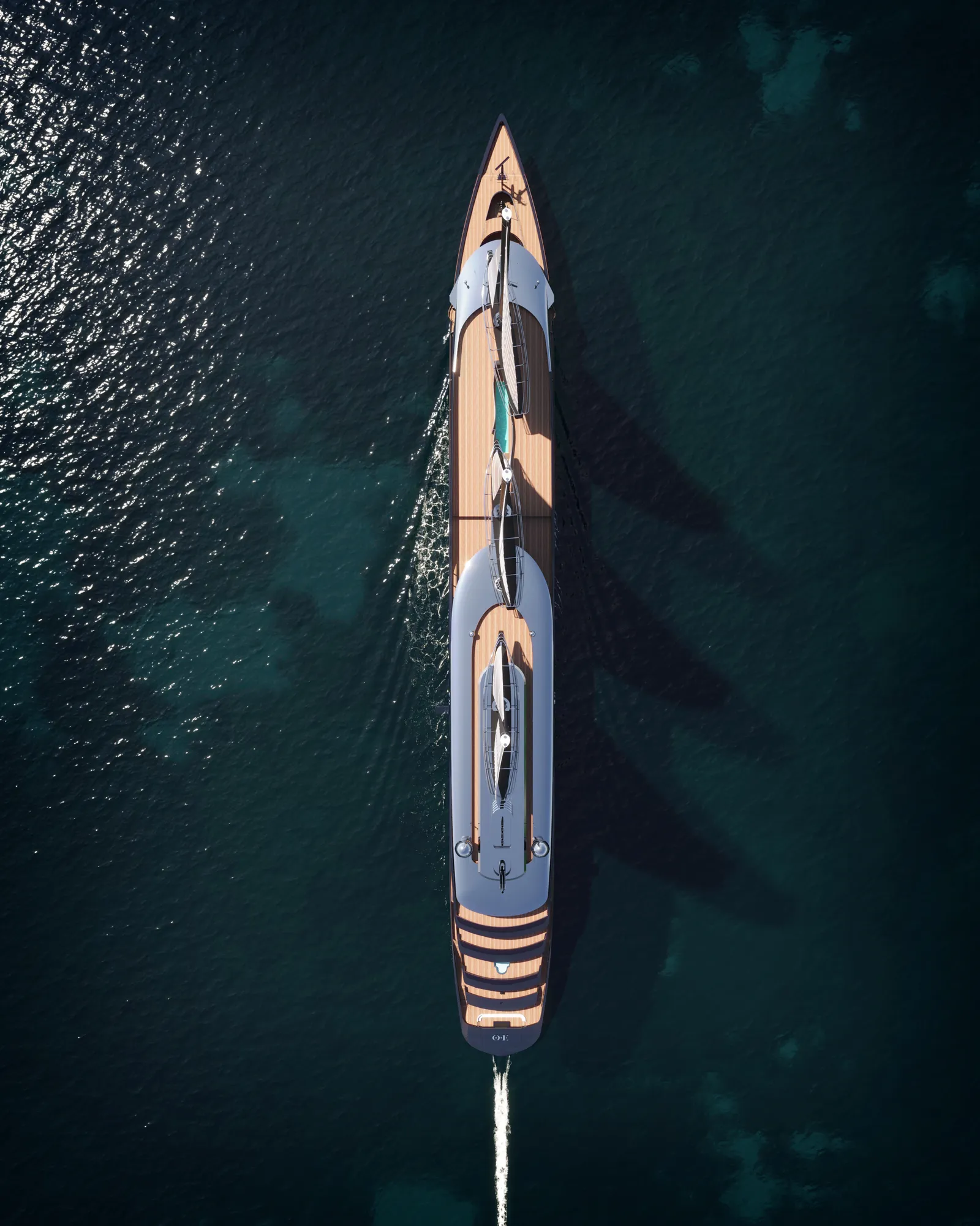 An aerial view of Orient Express Silenseas / ©Maxime d'Angeac & Martin Darzacq