Maerrhumm… maerrhumm,' I repeat under my breath, mustering the deepest grunt I can. But in gorilla speak, uttered with lowered eyes and a stoop, this is a relatively quiet and submissive noise. '[It means] we come in peace, you are my friend,' says Francois Bigirimana, the most experienced ranger at Rwanda's Volcanoes National Park. He was also the late conservationist Dian Fossey's porter and, after retiring some years ago, returned in 2022 to freelance as a guide to celebrities and VVIPs.
'Francois is half gorilla,' the well-built 65-year-old jokes, speaking about himself before crouching down and leaping almost a metre into the air. He trundles towards a bamboo tree and bites off its bark to reach the fleshier parts of the stem, adding: 'I eat what gorillas eat.'
There are eight people in our party – the maximum size allowed – as we set out to visit the 17-strong Kwisanga family of eastern mountain gorillas, a sub-species distinct from the more common western lowland gorillas thanks to their shaggy fur and jet-black colouration. They live in the montane forests in the Albertine Rift. Today, they are hanging out in the national park's periphery, not far from a number of farms growing crops such as avocado and potatoes.
Gorillas: Up close and personal
After almost 15 minutes of trekking in the dense bamboo forest, I am asked to drop my bags and walking stick and follow quickly behind my guide. Gorillas are nearby. Soon I spot a silverback mountain gorilla, sitting with his right forearm resting on a knee, less than seven metres away. He seems to be giving his human visitors the side-eye. This is Lisanga, brother to the family's alpha male. Minutes later, he moves to all fours, about a meter tall. I am the closest visitor to the great ape, and Bigirimana gestures to me to crouch down so he can snap pictures of me with Lisanga. Other visitors very quietly follow suit, while also trying to keep an eye on the silverback's movements.
Then the mood changes somewhat. 'Thump-thump-thump-thump-thump.' Lisanga stands on his hind legs, now almost two metres high. He pounds his chest, which reverberates with heavy but rapid clapping sounds, before dropping to all fours again, head held high. 'Don't be afraid,' Bigirimana tells us as we freeze on the spot, staring at the gorilla in awe. 'He is just showing off – he has a new wife here [watching him].' We continue deep into the fold of the gorilla family and find the impressive alpha silverback Kigoma turning his back against us, as though protesting our photography. A baby clings to him, also giving us a furtive look. Nearby a blackback relaxes, chewing on nearby leaves.
I had arrived in Rwanda via its capital Kigali five days earlier, on the night of a heavy downpour. The capital city is hilly, clean and relatively calm, with a population of approximately 1.2 million. The following morning, driving through the city, I saw schoolchildren walking up steep streets with ease, as well as the gleaming glass and steel of banks and ministerial buildings.
The city has an air of friendliness and quiet confidence. However, as our car approached the Kigali Genocide Memorial museum, the orderly flow of rush-hour traffic becomes more staccato. It is April, the month when hundreds of locals visit the site to commemorate their lost loved ones. 
Adjacent to the museum is the mass grave of more than 250,000 people from the 1994 genocide, perpetrated by the then Hutu-led government. Inside the museum, there is a display of human bones. Some are splintered, some child-sized – all victims of murder, with anything from machetes to clubs to hoes, by friends, neighbours and in some instances, family members. 'Thank you for visiting the memorial – most tourists avoid it,' restaurant owner Natasha said as we gathered afterwards for a quiet lunch at the nearby Repub Lounge.
The Rwandan Patriotic Front is working to end civil war
Rwanda is known as the land of a thousand hills, and its undulating, mist-covered landscapes make it easy to see why. It is led by president Paul Kagame, leader of the Rwandan Patriotic Front (RPF), who helped bring the genocide to a halt and says he aims to end all ethnic divisions.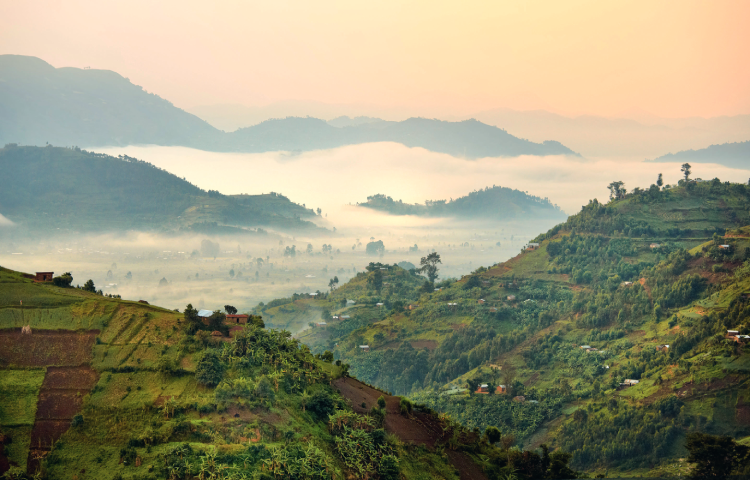 Away from Kigali, the RPF government shows another side to its character. Just a few dozen miles from the gorillas of Volcanoes National Park is Rwanda's border with the Democratic Republic of the Congo. The Rwandan government is supporting the M23 rebels who are carrying out forced recruitment and executions in the region's ongoing civil war, according to a 2022 UN report, Amnesty International and the EU. Human Rights Watch has also noted that ethnic divisions are at play: the M23 rebels are Tutsi-led, while many Hutus who left Rwanda in the wake of the 1994 genocide live in the areas being targeted close to the borders.
Despite some criticism, Kagame has a reputation as a promoter of peace and economic development. This has helped him to win friends in the West (particularly at the UK Home Office).
Tourism in Rwanda is on the rise
The Rwanda Development Board reports that foreign exchange earnings due to tourism grew by 25 per cent year-on-year between 2013 and 2018. However, Covid-19 slowed the trend. A 2021 paper by the International Food Policy Research Institute shows that during the six-week lockdown in March 2020, Rwanda's GDP fell by 39.1 per cent, a drop of $484 million compared to a no-Covid period.
After leaving Kigali, during my stay at Nyungwe House, a hotel from the One&Only portfolio in the south-western part of Rwanda, I'm told tea plantations are increasing thanks to government subsidies and cooperative schemes. The tea sector is Rwanda's third largest employer, producing 30,000 tonnes of tea that are exported to countries including the UK, Germany and Japan.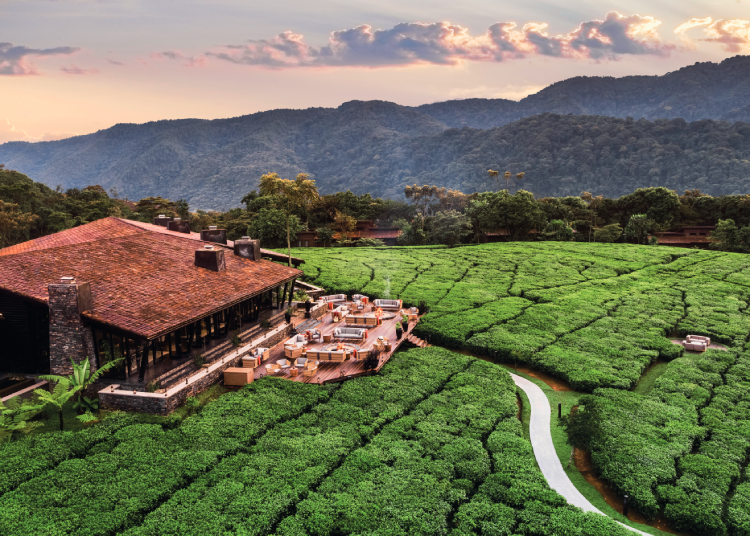 We tour spectacular plantations belonging to the Gisakura Tea Estate. The air here smells of something fresh and familiar, and I learn that this scent comes from the eucalyptus trees, which were brought in from Australia. Planted on steep slopes alongside the tea plantations, the fragrant trees are used as firewood and as 'intercrops' that enhance the quality of the tea produced. A ranger tells me that eucalyptus may be good for humans but is a threat to indigenous species of trees and wildlife as it contributes to landslides. Climate change is intensifying flash floods, which are endangering the lives of those with homes in the highlands. Only days before I arrived, more than 130 people died from severe flooding and landslides. More than 5,000 homes were destroyed.
As I move through the dense tea bushes, our plantation guide tells us that chimpanzees have been spotted roaming through plantations, which are on the edge of the Nyungwe National Park, where almost 60 human-habituated chimpanzees live.
Six hours' drive north of Nyungwe, we arrive in Kinigi, the region that is home to the nearby Volcanoes National Park. (The park takes its name from the spectacular dormant volcanoes that rise up to more than 4,000 metres in altitude.) I check in to Gorilla's Nest, which is said to be Kagame's favourite hotel in Rwanda (it is also frequented by Middle Eastern royalty), and share a drink with Dr Julius Nziza, a veterinarian from the Gorilla Doctors, a charity which brings together experts from Uganda, Rwanda and the DRC to protect gorillas across the three countries from human diseases – despite the regional tensions.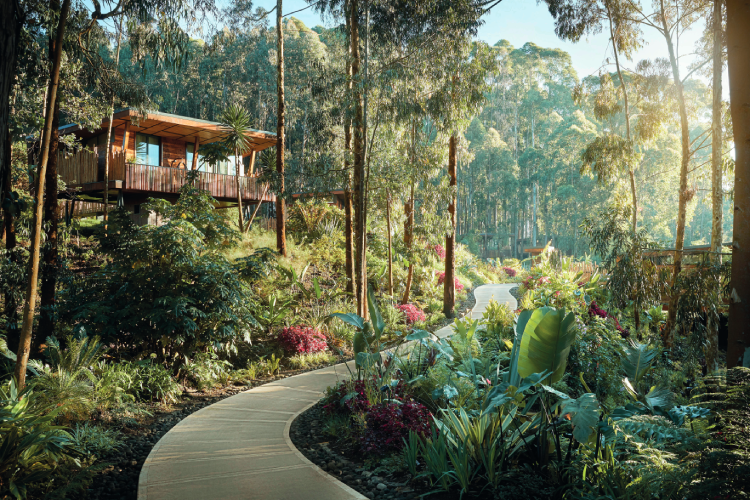 'We are seeing that some of the groups [of gorillas] are more frequently coming down into [farms] from the park,' Dr Nziza tells me. 'Of course, we want them to stay inside, they are much more safe – farm animals and human leftovers etc can make them sick.' Dr Nziza, who is pursuing a PhD in human-gorilla encounters at the University of Glasgow, stresses that there isn't a threat from the locals themselves, as they are friendly towards the apes. Since gorillas contribute significantly to tourism, locals benefit too. He says around 10 per cent of revenue from the general tourism industry finds its way back into government projects such as relocations, bridge-building, schools and landslide clearing.
Private wealth is aiding gorilla conservation
Aside from tourism, gorilla-related funding has been coming into Rwanda from international private wealth too, much of it linked to Dian Fossey's efforts, which began in 1967 when she launched a campaign that sparked the conservation. Fossey, who had fought against the harmful influence of poachers, was killed in 1985, but her legacy lives on in the Dian Fossey Gorilla Fund, which helped establish gorilla tourism in the Volcanoes National Park. The fund's HQ is today housed within the Ellen DeGeneres campus, a £15 million gift from the TV show star's wife Portia de Rossi. Aside from being a museum, the campus doubles as a research centre to further Fossey's work. Here I find a pamphlet that calls for philanthropists and donor-advised funds to invest in conservation efforts. Contributions have also come from Leonardo DiCaprio and Sigourney Weaver, who played Fossey in Gorillas in the Mist.
The annual Kwita Izina gorilla baby naming ceremony here has attracted A-list celebrities, international royalty and other HNWs, including Naomi Campbell, Princess Basma Bint Ali of Jordan, and the then Prince Charles, who named one baby gorilla 'Ubwuzuzanye', the Kinyarwanda word for harmony. Even a one-day gorilla trek starts at $1,500 per person. The pricing is a deliberate strategy to limit the number of visitors and attract a particular type of traveller.
The government, in collaboration with the Fossey Fund, Wilderness Safaris and the Gorilla Doctors, is fundraising to expand the Volcanoes National Park by 37.4 square kilometres, a 23 per cent increase that would help to reduce interaction (and the problems it causes) between humans and gorillas. All told, the $300 million project would employ 17,000 Rwandans, including 3,400 families in nearby settlements.
Before my trip comes to an end, I see another example of luxury hospitality being a force for good, back in Kigali. I meet with Alissa and Josh Ruxin, US entrepreneurs who own a pharmacy chain and also run The Retreat, a 20-room boutique hotel which is widely thought of as the city's best. Located close to Kagame's home, it recently hosted King Charles III. 'Everything we offer was custom-built by local craftspeople and showcases Rwandan arts, photography, experiences and agriculture,' says Alissa. The premises is also home to a restaurant, Heaven, which employs Rwandans orphaned by the genocide.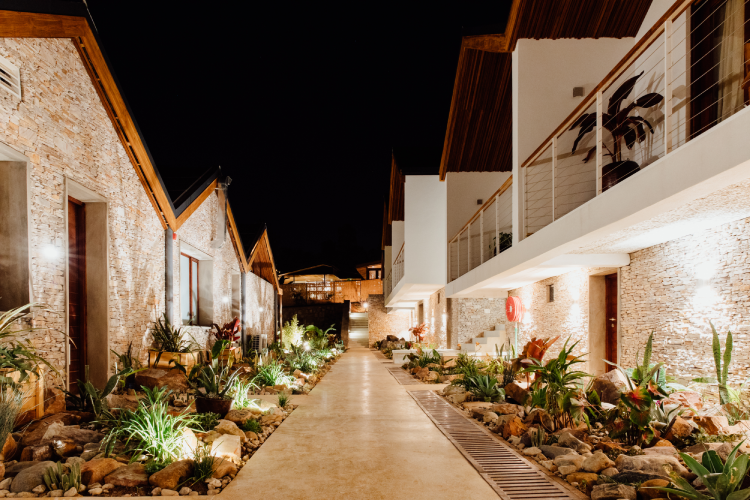 Luxury travel aiming to encourage investment in Rwanda
So what's next for Rwanda's evolution as a tourism destination – and as a nation? The country is looking to welcome international investment. Many tourists come for gorilla tourism after attending international conferences, but there are hopes that more international hotel brands will invest in the country. In November the World Travel & Tourism Council's global summit will be held for the first time on the African continent, in Rwanda. 'That will be the next big thing,' I'm told by a member of the Rwanda Development Board.
From a conservation perspective, at least, Rwanda is a success story. In half a century, the gorilla conservation efforts championed by Dian Fossey have sparked a massive percentage-terms increase in the number of mountain gorillas. On my flight home, as I look out over the lush landscape, I reflect on something another conservationist – and a former colleague of Fossey's – once told me. There's no question, Dr Jane Goodall said, that without eco-tourism in Rwanda, 'there would be no mountain gorillas'. Even so, there are just 600 or so living today – up from 254 half a century ago. There's plenty more work to do.